Remembering Doc Watson (May 30 2012)
Along with this short remembrance I've posted some photos from our 2006 trip to Merlefest when Doc and his wife Rosa Lee invited my wife Joyce and I to perform at the festival. Doc and Rosa Lee took us to lunch and came to all of our concerts. Our son Otto was 9 months old at the time. Maybe some day I'll write about the things Doc and I talked about. (Harvey Reid)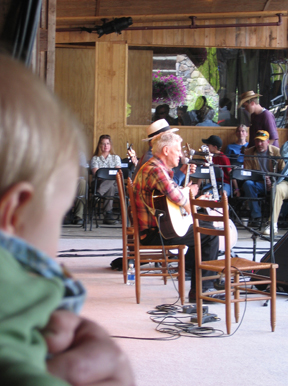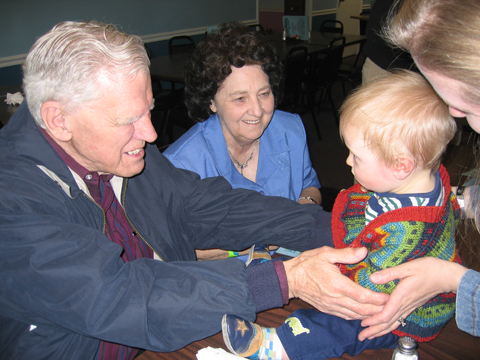 ---
Today is the first day of my "Post-Doc" life, and thanks to so many who have contacted me to express their sympathy for the loss of my #1 musical hero. With the obvious sadness at his passing, I also feel a heightened sense of increased responsibility, like there is slack in the chain we all must strive to take up. As each titan falls, we all must find how we can step in to help keep the flame going. Indeed a musical fire burned ever so brightly in this man who gave us so much.
(scroll down past the photos for the rest of the text...)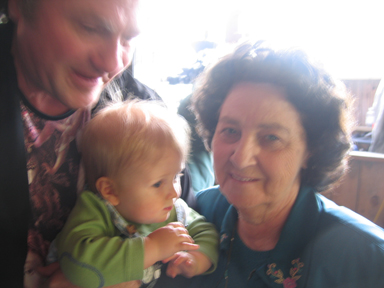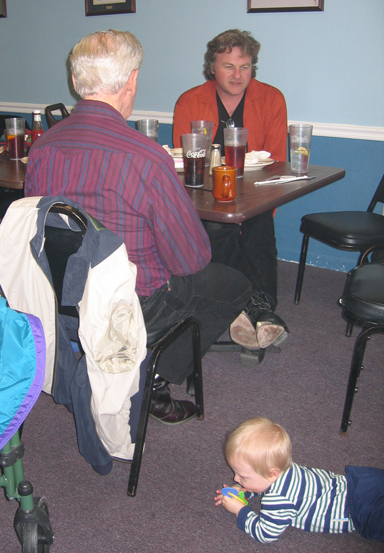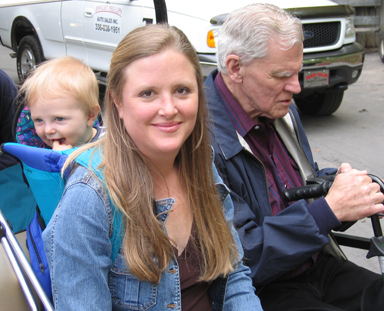 Today's tributes to Doc say the obvious things, of how he inspired us with his impeccable guitar work, and how his heartfelt, brilliant, soulful and personal versions of his brand of roots music taught us much about our American musical heritage. The tributes often mention his wonderful singing, but in the mainstream press I saw not a word about his truly extraordinary banjo or harmonica work. Doc's greatest gift to me might have been something ever larger than his music: his persona. He forged a long and fruitful career playing Doc Watson music, and managed to choose his songs well, study their background, and play them from his soul, while seemingly shrugging off the ever-annoying gnat-cloud of issues of style, genres and categories. He successfully played country, ragtime, blues, folk, rockabilly, country, gospel and old-time fiddle music with equal love and authority, while earning the matchless adoration and respect of untold numbers of listeners and musicians just by playing his music for those who would listen. In my world of "unpop" Doc was one of the precious few who was able to ignore the glitz and glamour and bullshit of show business and the music industry and just play his music, without chasing markets.
The way Doc would sit down, tune his guitar, offer an "aw-shucks" introduction to a song and then play the hell out of it has always been to me a kind of delightful but all-powerful musical Kryptonite– that made the costumes, rhinestones, posturing and posing and antics of those legions of highly visible and popular musicians reveal them to be weak and phony; mere circus monkeys by comparison. When people ask me about nearly anything in the 70s or 80s, about Madonna or Michael Jackson or any pop music figure, I generally just shrug and say: "Sorry, I was listening mostly to Doc Watson back then and didn't notice."
As a guy who has steered my own path of playing the music that moves me, over some 40 years, I realize now how much his music not only inspired and taught me to try to play all the notes and add some of my own, and to pull a strong, resonant tone out of each string I pluck, but most of all to make sure that each note and each word comes from the center of who you are. I may never experience another musician who put it all together like Doc, and we are all lucky he stayed on the road playing gigs until he was nearly 90. I remember being afraid to go see Doc in later years, because I did not want to see this rock of a man frail or powerless. Ha! Right to the end he still sang as well as ever, and he is now another kind of hero to me for setting a new standard for what a man in his eighties can do with a guitar.
It is a bittersweet commentary on the entertainment system that this man who was so beloved by so many actually owned very little intellectual property because he wrote very few songs, so he didn't receive much in the way of royalties from his life's work. He actually wanted to retire some time ago but needed the money he was able to make from performing in his older age. A gospel song his wife Rosa Lee wrote (My Lone Journey) made them their biggest chunk of royalty money they ever got when Robert Plant and Alison Krauss recorded it a few years ago, when Doc was nearly 85. It's humbling to think of how much fruit his tree produced, how hard he had to work to give us what we drank from his well, and how immense his contribution to American music was. Perhaps because he was a man of the people and only saw himself as a working man, I can't help but compare the life of Doc Watson to those who find a way to skim off millions while contributing little except the leavings of their own gluttony. Thank you Arthel Watson for all you gave us.
The guitarist in that band upstairs better move over a seat starting today.
This is another posting where I'm trying to raise issues and awareness in the life of modern troubadours... Thank you if you made it this far, and please check back to look for new posts as I get them done. I plan to cover a wide range of issues and topics.
Chordally yours,
HARVEY REID
©2012