Index of Harvey Reid's Posted Writings
Modern troubadour and guitar explorer Harvey Reid is posting in-depth writings on troubadour issues, guitar education and American music topics here. He has performed and taught guitar since 1974, was the national Fingerpicking Guitar Champion, and has released 32 highly-acclaimed solo recordings of original, traditional, and contemporary acoustic music. He now lives in Southern Maine and is performing regularly and continuing work on a very ambitious series of stringed instrument educational books available from Amazon.com, other online retailers and from this web site.
Some older articles, essays and writings can be found at this page. A couple of the most popular ones from the past have been re-listed here at the bottom. Other essays on learning guitar are posted on the Song Train web site. Harvey tweaks and edits these from time to time to improve them and fix typos. These essays and articles were the precursor to Harvey's new book in 2020 "The Troubadour Chronicles," and they generally go deeper into specific topics, while offering some links and pictures.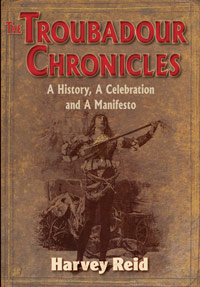 ---
The Surprising Story of Annie Brewer's 43-Second Lullaby (Feb. 2020)
Review of Ken Burns' "Country Music" Film (Sept. 2019)
The Mystery of the Highest-Flying Troubadour (Sept. 2019)
About The Troubadour Skillset (April 2019)
I Got Them Ol' Digital Music Archive Blues (Feb 2019)
Call Us Troubadours: The Story of the Most Durable and Personal Type of Musician (Dec 2018)
The Heart-Warming but Confusing Story of the Fisk Jubilee Singers (May 2018)
The Great Subway Station Violin Experiment (Dec 2017)
The Strange & Illuminating Case of Pianist Joyce Hatto (Nov 2017)
Music in Colonial New England Life (Nov 2017)
The Tangled Roots of Rhyming & Troubadouring (Oct 2017)
On Musical Authenticity (Sept 2017)
On Roots Music & Folklore (June 2017)
Troubadours and Income Tax (Apr 2017)
Remembering Chuck Berry: The Brown-Eyed Handsome Man As Prometheus (Mar 2017)
Troubadours and Politics (Mar 2017)
About Guitars & Fingernails (Mar 2017)
How the Heck Do We "Learn A Song?" (Mar 2017)
Are Robots Going to Replace Musicians Too? (Feb 2017)
Why Children's Guitar Education Isn't What It Should Be (Feb 2017)
Why Aren't Guitar Players Better At Reading Music? (Jan 2017)
How Do You Evaluate a Guitar Tuning or Partial Capo Idea? (Jan 2017)
Are Guitar Orchestras A Good Idea? (Jan 2017)
Bob Dylan's Nobel Prize: Triumph of the Troubadours? (Nov 2016)
Yes, Virginia, There Is Christmas Music (Dec 2016)
Why Guitars Are Hard To Tune (Dec 2016)
The Controversial But Indispensible 3-Prong Adapter (Nov 2016)
About My Very Unusual Chrysalis/Ridgewing Guitar (Mar 2015)
Observations at the Newport Folk Festival 2014 (Aug 2014)
Understanding Pete Seeger's Legacy (Jul 2014)
Remembering Doc Watson (May 2012)
ASCAP & BMI: Shadowy Thieves or Guardians of Musical Property?
Compression: Essential Audio Tool or Deadly Sin? (1998)
Confessions of a Reluctant Autoharp Teacher (1999) (from Lula Magazine 2009 )