Part II
Harvey's Career Highlights Vol I (previous Page 1975-1990)
This is the (unfinished) 2nd installment of Harvey's self-written career history, with lots of rare photos from Harvey's photo album.
---
1990
Still didn't have a recording that reflected the kind of music I play in concert, so I made a compilation/greatest hits collection CD with 6 re-recordings, 6 reissues and 7 new cuts and called it #106 Overview. It was a mixture of original, traditional, instrumental, vocal, various instruments, band and solo tunes.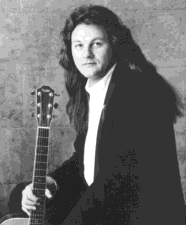 Fall 1989 (Age 35)
---
1991
I decided that there were too many songwriters and that traditional music was getting ignored because nobody could make money off of it, so I went to The Cottage with my digital rig and recorded an all-solo, all-digital album of folk songs called #107 Steel Drivin' Man. I sort of intended it for kids, and I expected people to think it was uncool or even dumb, because I did Streets of Laredo and even Red River Valley. To my surprise it has sold faster than previous albums and gotten a lot of airplay, even on commercial stations. This maybe means that other people are also sick of being force-fed fake, corporate commercial audio Velveeta, and that it might be OK for a guy who has quit everything else and played guitar for 25 years to just sit down and play something he likes to play. Imagine that!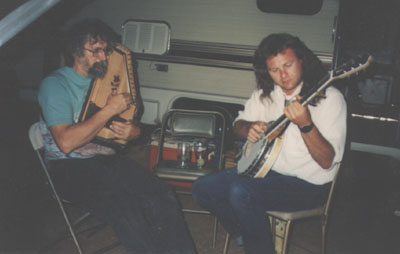 Jamming with autoharp legend Bryan Bowers at the California Midsummer Bluegrass Festival in 1991. This was the first time we had met, and we played a lot of music that night till very late.
---
1992
Toured a lot. Played some big festivals like Telluride, Winnipeg. Initiated the "Coming of Winter" concert in Portsmouth NH with Rick Watson, Brian Silber and Lynn Rothermich in October 1992, that has become an almost annual tradition.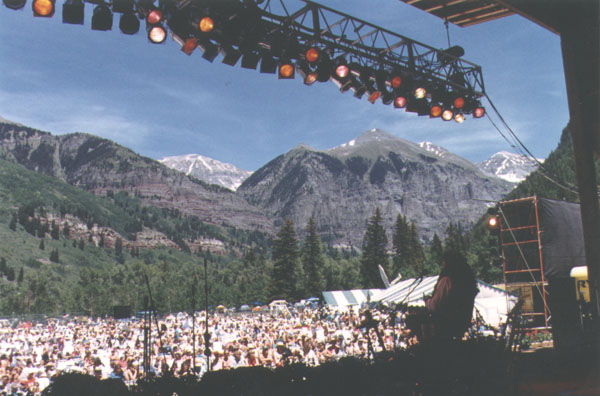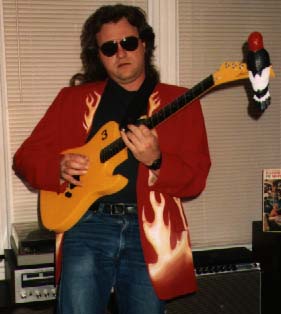 HR in 1992 wearing the Fil Kennedy Flame coat. (Photo: Fil Kennedy) and on-stage at the Telluride Bluegrass Festival.
---
1993
Released Circles, an album of all-original songs and instrumentals. I had planned to do some of the songs in the studio with a band, but thought the demos sounded good, so I left them they way they were. It was recorded direct-to-DAT, in homes, hotel rooms, even a cut at the Press Room with owner Jay Smith playing the bohdran (Irish drum.) Set a new record of days away from home.
Played at the amazing Troubadours of Folk Festival on June 5 1993 at UCLA Stadium in Los Angeles, sponsored by Rhino records and Ben & Jerry's Ice Cream.

Harvey (2nd from left) with Richie Havens and Peter, Paul & Mary singing (with many other not pictured) in the finale to the festival.The amazing lineup for the 2-day festival (which did not draw much of a crowd and lost lots of money) consisted of: PP&M, Jefferson Starship Unplugged, Joni Mitchell, Bonnie Raitt, John Prine, John Hammond, Harvey Reid, Mary Chapin Carpenter, Richie Havens, Arlo Guthrie, Carolyn Hester, Bob Gibson, Beausoleil, Judy Collins, Jimmie Dale Gilmore, Ted Hawkins, Tish Hinojosa, Kingston Trio, Roger McGuinn, Taj Mahal, Odetta, Maura O'Connell, Ramblin' Jack Elliott, Leon Redbone, Syd Straw, Richard Thompson, Peter Case, and Len Chandler.
---
1994
Moved to Maine (only 6 miles from where I was living) , bought an 1888 Victorian house, and have spent the rest of my life painting it (it seems that way) and pulling weeds. Toured Scotland for the first time, and spent 3 weeks there enjoying the most beautiful place I have ever seen, and enjoying seeing the Motherland. Released Chestnuts, an instrumental album of traditional tunes.
---
1995
Played my first shows in Quebec, and was very well received, and got to use some of my schoolbook French. Started doing some Holiday Christmas shows with Susie Burke and David Surette (below) Had a slow year, recuperating from 20 years of music, and starting work on painting my house.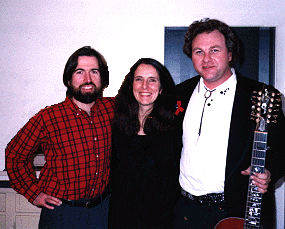 ---
1996-- Acoustic Guitar Magazine Picks Reid in 100 Essential CD's


The September 1996 issue of Acoustic Guitar Magazine picked the 100 essential CD's for acoustic guitar fans, and the TOP 10 FOLK list included Steel Drivin' Man by Harvey Reid. The rest of the list included Joan Baez, Ry Cooder, Elizabeth Cotten, Rev Gary Davis, Woody Guthrie, Ian & Sylvia, Peter Paul & Mary, and The Weavers.

Mine was the only recording made in the last 24 years to make the list!
---
1998
Traveled to Norway to play at the Haugesund Roots Festival (below) and do a special concert with Irish traditional singer Dolores Keane and Norwegian singer extraordinaire Rita Eriksen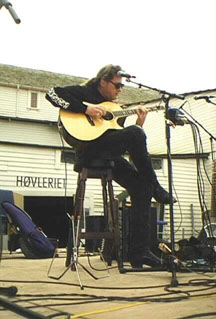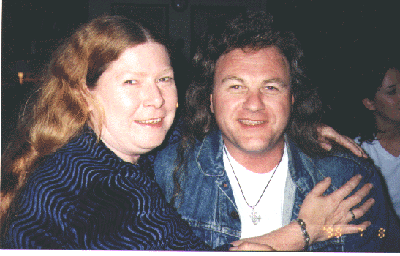 with Dolores Keane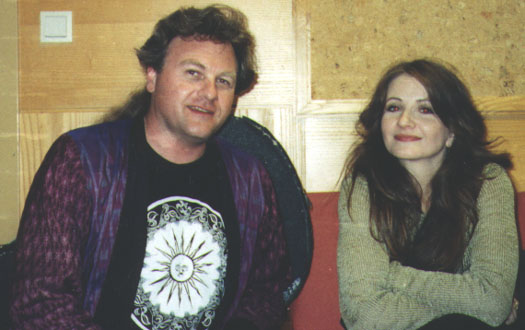 and Rita Eriksen backstage before the joint concert in Norway. Here I am on their cool main stage: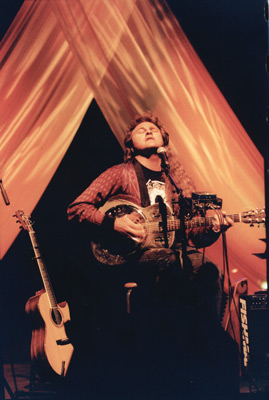 Got a lot of work to do to fill in the next 25 years. Feel free to bug me!
WOODPECKER MULTIMEDIA
PO Box 815 York Maine 03909 USA
phone (207) 363-1886



This web site concerns the music and life of acoustic musician, writer & music educator Harvey Reid.
If you don't find what you want, or if you have comments or questions, please email to