Liner Notes To "Great Sad River "
by Harvey Reid & Joyce Andersen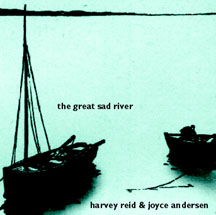 ---
credits
recording- 2000, 2001 at woodpecker studios, york, maine
mastering- northeastern digital, southboro, massachusetts
arrangements, production, engineering, mixing- harvey reid & joyce andersen
gear- recorded in 24-bit digital with audio-technica 4051, 4060 and 4047 mikes, api 3124+ pre-amps, an apogee ad-8000 converter, and a macintosh g4 450mz. computer.
violin, viola & vocals by joyce andersen
bass on isidore by peter black
vocals & all other instruments by harvey reid & joyce andersen
guitars- 1984 rosewood taylor 810 (tracks 1,5,7,8,9,10,13), 1999 rosewood larrivee c-10 (2), 1988 maple jumbo taylor 12-string (12), 1998 metal-body round-neck dobro (6), 1970's bozo 6-string (11), lap steel 1950's supro (7); autoharp 1974 oscar schmidt (12); mandocello 1999 ovation mc868-4 (3,4,5,6); banjo 1988 6-string deering mb-6 (6,9); guitar strings- elixir medium gauge; fiddle by robert childs; viola (6,7)
design & graphics- eileen healy inside photo- stan moeller liner notes- harvey reid
(*) a partial capo was used http://www.partialcapo.com
thanks to fans, friends & family, and to the two ships that almost passed in the night...
tracks 1-5, 9, 12,13CP2001 by harvey reid (quahog music bmi); stand clear C2001 by joyce andersen (joyscream music ascap); fourth of july C1994 by pete droge (deadman's hat music ascap); torn screen door ©1999 by david francey (laker music socan); well well well by bob dylan & danny o'keefe (wild rider music ascap); mississippi you're on my mind C by jesse winchester (4th floor music/ hot kitchen music ascap)
harvey reid has made 14 other critically acclaimed, extended-length, audiophile quality recordings, most of which are still in print. go to www.woodpecker.com to find out availability, prices, formats, etc. – they may be very hard to find in stores.
joyce andersen has made 2 other recordings, both on cd, available at www.joyscream.com
---
1- Moonshiner's Blues (H. Reid) [4:36] I have only performed at a prison once, and that was 1975 with a bluegrass band. I met a young inmate there, who told me this story, and I am a little embarrassed that it took me 25 years to retell it. He was a musician, and doing hard time in adult Federal prison for helping his father transport moonshine in Kentucky. He felt that there were politicians doing a lot worse things and getting away with it. If you're still out there, kid, this is for you, though I know you're not a kid now. I still remember you as one. I believe I put all the facts I remembered in the song, and didn't have to make any up. It probably would make a fine bluegrass song. (*Esus) [3/23/01]
2- The Great Sad River (H. Reid) [3:51] I worked out the sneaky guitar part and most of the music in Norway in 1999, sitting on the banks of a fjord. The lyrics wrote themselves on March 18, 2001 when I was filled with a huge sadness over the deaths of an aunt, uncle and a friend in a short period. This seems at first to be a sad song, but I think it is hopeful, and a reminder that we need people beside us to get through the things we get through. (*Asus) [3/27/01]
3- Will You Go To The Sea (H. Reid) [5:26] Tracks 3-5 were written as as the trilogy of the sailor's fate, and are often performed as such. The dramatic situation of the girl on the shore, waiting, sometimes for years, for news of the soldier or sailor was really an information problem. Once all soldiers, sailors and girls get e-mail, pagers and cell phones, this ancient drama will lose meaning. Maine has a long seafaring history, and when the ships were built here, they could pay for the ship, crew and turn a handsome profit from a single voyage. The young men were not professional sailors– small-town boys would sign on as crew in the days of an essentially cashless, agrarian society, and if all went well, it could provide their only real chance to buy a farm. It also makes more sense to side with the emotional drama of a young girl waiting for her boy to come home from sea so they could start a homestead, than it does to think of her pining for some sailor who had a girl in every port. [3/27/01]
4- Home Again (From Foreign Lands) (H. Reid) [2:18] A jig written for the mandocello, a once-common member of the mandolin family, tuned like a 'cello, an octave below a viola, with 4 pairs of strings. (The full name of the cello is violincello, and this instrument is sometimes called a mandolincello, especially in Europe.) There are even mando-basses out there, which are fretted, with pairs of strings also. I usually use it for rhythm, since it does things that a guitar can't, but it can play melodies also. The duet with the fiddle is pretty full-sounding for 2 melody instruments, and heavily Celtic-flavored. For you players, the string gauges are .022 to .074, which is quite a workout for the hands. [4/24/01]
5- The Wreck Of The Isidore (H. Reid) [7:12] I didn't have to make up any of this, even the ghost ship, dreams, 7 coffins, or phantom crew stuff. It all happened just like this, about 4 miles from my home. I didn't have to rename the ship or the captain or Thomas King or even take poetic license with the words on the tombstone. Is this luck or fate? Ready for one more? I was reading a book about Maine shipwrecks, found a picture of the tombstone and a brief mention of the wreck, and started writing the song— coincidentally on Nov 30. This was before I even knew about all the ghost stuff. Creepy. Captain Leander Foss died at age 36, left a wife and I think has some descendents. His gravestone I quoted from is in Kennebunkport, Maine, where the ship set sail. The ship was actually a barque, a 3 or 4 masted tall ship, and she wrecked on Bald Head Cliffs in Cape Neddick, Maine. It was a Wednesday. (*Esus) [4/16/01]
6- Well Well Well (Dylan/O'Keefe) [6:13] Written by Bob Dylan and Danny O'Keefe, though Dylan has not yet recorded it. It first appeared on a 1997 Maria Muldaur recording. The versions we have heard give it a blues or rock feel, though we wanted to give it a more old-time, rootsy energy. We sometimes do it on stage with just the 6-string banjo and viola. (*) [4/30/01]
7- The Fourth Of July (P. Droge) [4:20] Learned from the excellent debut 1991 CD of Seattle grunge-rocker Pete Droge. I always heard this in my head as a modern type of Everly Brothers song, with the flavor of old-fashioned mountain "brother duet" harmony tinged with the hard edge of rock and roll. It's a very poignant song, and one of the best odes for a dead friend I have ever heard. The lap steel is tuned in Open Ab, and played with all harmonics and a volume pedal. (*Esus) [3/21/01]
8- Torn Screen Door (D. Francey) [3:15] Learned from the superb debut recording by Scottish-born Canadian songwriter David Francey. It is a shining example of good songwriting, and a textbook of word rhythm. We wanted to add some of our instruments to David's a capella arrangement without damaging its unique lilt. We made it longer, since we like the song so much and always hit rewind when we listened to his version. A Massey-Harris is a brand of tractor, made between 1929 and 1953. (*Esus) [3/24/01]
9- The Road To Hiram (H. Reid) [3:13] Joyce and I love old time fiddle music, and I decided to create a piece that would work well with the "faux frailing" technique I invented some years ago that makes the 6-string banjo, in guitar tuning, sound like a clawhammer-style 5-string banjo. It sounds so much like a banjo that people assume it is, and we were able to make this sound like a classic fiddle and banjo duet. The drive from here to Hiram, Maine means a lot of things to us. (*Asus) [4/15/01]
10- Mississippi You're On My Mind (J. Winchester) [4:50] I have been a fan of Jesse Winchester's songwriting for almost 30 years. This one is one of the most perfectly written songs I know, and describes his home state, with all the senses, written when he was exiled in Canada during the Vietnam war. I learned this in the 1970's, and when I found out that Joyce knew it and was also a fan of his, it helped cement our partnership. [3/17/00]
11- Stand Clear (J. Andersen) [4:07] The full name of this song, "Stand Clear of the Closing Doors," is what they say in the New York subways. Joyce says this is only tangentially related to the meaning of this song. She usually plays guitar on this, but we discovered while recording it that it makes a fine slide song. I had been listening to Willie Johnson, and hopefully some of his playing wore off. Open D. [4/25/01]
12- The Rose Of Allendale (Trad.) [5:39] An epic Scottish love song, and one that I tried to play on guitar and bouzouki for some time before realizing that it belonged on the autoharp. A gem of a song, and one that features the violin and autoharp together, a sound I am very fond of. [3/18/00]
13- Farther Along (Trad.) [5:34] I learned this from The Flying Burrito Brothers in 1972, and used to play it with my first bluegrass band in 1975 in Boulder, Colorado. It has haunted me all this time, occasionally surfacing at jam sessions. On a road trip, in a hot tub, the line "toils of the road shall then seem as nothing" popped into my head. Joyce liked the song, and we worked out the harmonies while still wet. I am surprised that this is not better known. I only recently started fingerpicking it, and together with the fiddle, it finally gets the Salvation Army mission band lilt I think it deserves. It makes a perfect funeral song, and unfortunately lately it's been pressed into service for this purpose. (*Esus) [3/30/01]


WOODPECKER MULTIMEDIA
PO Box 815 York Maine 03909 USA
phone (207) 363-1886



This web site concerns the music and life of acoustic musician, writer & music educator Harvey Reid.
If you don't find what you want, or if you have comments or questions, please email to