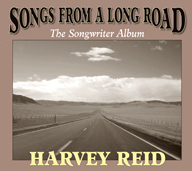 LINER NOTES AND CREDITS TO HARVEY REID's "Songs From A Long Road"




1 Too Old To Ride (3:51) [2011]
2 Cryin' Shame (3:50) [2011]
3 This Old Heart Of Mine (4:32) [1998]
4 It's A Banjo Playing (2:19) [1998]
5 Losers In Love (3:02) [2004]
6 Sing Me A Lullaby (3:14) [2011]
7 Time And Space (2:56)* [1992]
8 Old Portsmouth Town (5:19) [1984]
9 Silver Midnight Moon (4:08) [2011]
10 Restless Man (4:06) [2011]
11 The Lights Of Love (4:25) [1992]
12 Talkin' Organic Food (2:30)* [1985]
13 All Or Nothing (3:42) [1990]
14 Autumn (4:39)* [1992]
15 Dying A Little (4:23) [1990]
16 Sweet Guitar (3:49)* [1993]
These songs stretch across 40 years in the musical life of one of America's most gifted and prolific acoustic musicians, showcasing his songwriting and lyrics. 7 tracks were collected and remastered from out-of-print albums, 5 are new recordings of older songs, and 4 are previously unreleased. (*)

CREDITS
Harvey Reid Guitar, slide guitar, lead vocals
Joyce Andersen Fiddle, vocal on "Too Old To Ride,""Losers In Love"
Dan Crary Lead guitar on "All Or Nothing"
Rick Watson Piano & vocal on "All Or Nothing," "Old Portsmouth Town"
Anne Dodson Harmony vocal on "All Or Nothing"
Brian Silber Viola on "This Old Heart Of Mine"
Kent Allyn Bass on "This Old Heart Of Mine"
T.S. Baker Harmony vocal on "This Old Heart Of Mine"
Gary Sredzienski Accordion on "This Old Heart Of Mine"
Linda schrade Harmony vocal on "Old Portsmouth Town"
Arrangements, Production, Engineering, Mixing- Harvey Reid
All Lyrics- Harvey Reid
Digital Re-Mastering- Thomas Eaton, Harvey Reid
Design & Graphics- Aphro-Graphics
Cover photo- Harvey Reid, through the windshield. Utah or Nevada.
Special Thanks- Joyce Andersen, Rex Holmes, Terry Kuhn
(*) A partial capo was used on the guitar. (Standard tuning, sometimes tuned low.) For more information, visit www.partialcapo.com
(+) an additional track was overdubbed; all other tracks recorded live
All selections CP1982-1986 by Harvey Reid (Quahog Music, BMI)

About the Songs... I usually write down the date when I finish a song, and I am surprised I have most of these.
1- Too Old To Ride Written 11/3/84, probably in Portsmouth, NH at 18 McDonough St. Inspired by a 1976 visit to the Cheyenne rodeo where I sang Hank Williams songs all night with a retired brahma bull rider named Mac. This is a re-recording, with Joyce Andersen on fiddle & vocal. (bf)(T1)[2011]
2- Cryin' Shame [Open Eb tuning] Written in DeKalb, Illinois in 1981 or 1982. This was on my 2nd LP and on a live album, but I decided to make a new version for this record. (bf)(O) [2011]
3- This Old Heart Of Mine Even though this was written (8/22/97) to be easier to sing as I got older, I included the original 1998 version here, with T.S. Baker on harmony, Kent Allyn on bass, Brian Silber on viola, and Gary Sredzienski on accordion. From the Fruit on the Vine CD. (+)(T1)(f) [1998]
4- It's A Banjo Playing [CAPO 2] Written 9/7/97. Also from the Fruit on the Vine CD, it's kind of a love song for the banjo and for bluegrass music. A few bluegrass bands have started doing this song, which pleases me greatly. I often refer to it as my shortest and happiest song. (T1)(bf) [1998]
5- Losers In Love [CAPO 3] Written 2/21/04, sort of in the style of John Prine, but I'd love to hear George Jones sing it. From the "Kindling the Fire" CD with Joyce Andersen on vocal and fiddle. (T1)(f)[2004]
6- Sing Me A Lullaby [Tuning: Open Eb] Written 2/13/95 in York, Maine, in the style of those old gospel songs that sometimes get quite Zen. (O)(bf) [2011]
7- Time And Space [CAPO 2] Written 7/3/79 in the backyard of my girlfriend's sister's house in Plymouth, NH. Like a State of the Union address, it chronicled my state at the time. I always liked it but never put it on an album or performed it. I found this spirited version on an old tape. (T1)(f) [1993]
8- Old Portsmouth Town [CAPO 133311] Written 4/29/84 on a park bench by the South Millpond in Portsmouth, NH. This version appeared on The Coming of Winter tape in 1986, and was recorded live on Dick Pleasant's radio show on WGBH radio in Boston with Rick Watson on piano & vocal, and Linda Schrade on vocal. (T1)(p)(*) [1984]
9- Silver Midnight Moon [Tuning: Standard-2] [CAPO 0 2 2 2 0 0] I wrote this on 12/3/94, triggered by a fleeting August conversation with a young girl named Amy in Lyons, Colorado and a beautiful moon that weekend over a riverbed. Originally on the Fruit on the Vine CD, I decided to re-record a new version. (DB)(bf)(*) [2011]
10- Restless Man [Tuning: Open Eb] Written 11/1/83 in Kent, Ohio. A requiem for Lowell George; I always imagine him singing it. This song first appeared on the 1986 cassette of The Coming of Winter and was left off the 1990 CD of that album because there wasn't room. I recorded another version in 1990 for Overview, but decided it was time for one more version of it. (O)(bf) [2011]
11- The Lights Of Love Tuning: Standard-1 Written 5/27/91 while driving home from a festival gig in New York state, thinking about Joyce Andersen, who I had seen recently in Holland. I was enamored with her, and 12 years later we got married. This recording was done 11/27/92 on a portable DAT machine. (bf)(T1) [1992]
12- Talkin' Organic Food I wrote this in July 1972, about my older brother, who was at the time a "health food freak." There were no hemp shirts and no ethanol or bio-diesel back then, so it was somewhat prophetic as well as silly and surprisingly up-to-date. Recorded 3/5/85 at Holstein's, a Chicago folk club, by Rich Warren, a legendary folk radio DJ and recording engineer.(T1)(f) [1985]
13- All Or Nothing [CAPO 1 3 3 3 3 3] Written in my crappy apartment on Music Row in Nashville the winter of 1979-80, when Lynn Rothermich and I were living there. We recorded a version for my Very Old Song LP in 1983, but I like this one better. It is from the Overview CD with Anne Dodson on harmony vocal, Rick Watson on piano and vocal, and Dan Crary on lead guitar. There is another nice live version with Lynn, Rick and Brian Silber from 1992 on the In Person CD. (f)(*)(T1) [1990]
14- Autumn [CAPO 1] Written 10/1/78, while I was living in my van and playing bar gigs in Northern New England. I never recorded or released it, and found a few versions on tape when I tried to organize my tape archives. It captures the lonesome vibe of who I probably was when I wrote it. I don't write songs like this anymore, partly because I am not that lonely aymore, and because I now know that I likely won't feel like singing them for anyone. A shout to my buddy Joe Phillips who has been singing this song for years. (f)(T1)[1992]
15- Dying A Little [CAPO 022200] Written 5/24/90 in Portsmouth NH. As close as I ever came to writing a political or protest song. It is also one of about a half dozen songs in my career that I recorded the day they were written. I have almost never performed it, probably because it is a little angry and dark. I think it is a well-written song, and I am glad to have it back in circulation. This version appeared on the Overview CD. (f)(*)(T1)[1990]
16- Sweet Guitar [CAPO 2] Another desperate, lonesome anti-road song, that accurately captured what I was feeling. Again it was something I never felt like singing for people. Seemed like a nice way to close this album out, since I finally have a nice home and family life and all those years on the road seem like a dream. (f)(T1)[1992]
Standard tuning unless noted. (*) uses a partial capo. (T1)= 1984 Taylor 810 guitar, (DB)= 2006 Dana Bourgeois model JOMC, (O)= 2002 Richie Owens resonator guitar.
(p)= Fingerpicks (f)= Flatpick (bf)= Bare finger. Mostly Shubb capos were used. Most of this recording was done in standard tuning, without partial capos, even though I use them a lot.
©2017