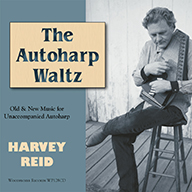 LINER NOTES TO #128CD "THE AUTOHARP WALTZ" by HARVEY REID
Old & New Music for Unaccompanied Autoharp


1-Sweet Hour of Prayer (Walford/Bradbury)(3:24) Autoharp
2-The Autoharp Waltz (H. Reid)(3:48) Autoharp
3-Slipped Through My Hand (H. Reid)(5:33) Autoharp, vocal
4-Gold Watch & Chain/Gospel Ship (Trad.)(3:44) Autoharp
5-Scotland Bridge (H. Reid)(3:48) Autoharp
6-Times Gone By (H. Reid/B. Silber)(4:35) Autoharp, violin
7-Fishing Pond Blues (H. Reid)(3:45) Autoharp, vocal
8-Wayfaring Stranger (Trad.)(3:14) Autoharp
9-East Virginia (Trad.)(3:01) Autoharp
10-In Dark Winter Rejoiceth (H. Reid)(3:33) Autoharp
11-The Train That Carried My Girl From Town (Trad.)(2:53) Autoharp, vocal
12-Scarborough Fair (Trad.)(3:10) Autoharp
13-Filled With Love (J. Andersen)(4:21) Autoharp, vocal
14-Lorena (Trad.)(3:16) Autoharp, lap steel, guitar
15-Bully of the Town (Trad.)(2:15) Autoharp
16-Lament for Abigail Curtis (H. Reid/ B. Silber)(3:20) Autoharp, viola

Woodpecker Multimedia WP128CD
CREDITS
Harvey Reid- Autoharp, vocals, guitar on Lorena
Brian Silber- Violin on Times Gone By, viola on Abigail Curtis
Arrangements, Production, Engineering, Mixing- Harvey Reid
Mastering- Thomas Eaton, Harvey Reid
Design & Graphics- Aphro-Graphics
Photos- Amanda Kowalski
Special Thanks- Joyce Andersen, Dave Sander

I have had the same 21-chord Oscar Schmidt Appalachian autoharp since January 1975, and it has traveled millions of miles and played over 6000 gigs with me. I used it for this entire album because it is the only one I have, and it always transports me where I want to go. I am perhaps afraid that if I get more instruments I will be like the guy with two clocks who isn't sure what time it is. On my last album I made a point to borrow some diatonic instruments, to try to sound more like other players. I planned to do that again but it didn't happen. I also planned to have more instruments join me, but that didn't really happen either. So I guess this is what me and my trusty old 'harp sound like these days.
(+) an additional track was overdubbed; all other tracks recorded live
Tracks 6, 16 done with 2 Audio Technica 4051 mikes and a Panasonic SV-255 DAT; Track 14 a Nakamichi CM-300. All other tracks done with 2 Audio Technica 4047's and API pre-amps.
All selections and arrangements CP1982-2013 by Harvey Reid (Quahog Music BMI), except "Filled With Love" © 2003 by Joyce Andersen (Joyscream Music ASCAP)
About the Tracks
1. Sweet Hour of Prayer (Walford/Bradbury) A majestic old hymn, written by a blind English preacher in the early 1800's and set to music around 1860 by American composer William Bradbury, who was from York, Maine. The non-chordal melody notes make a haunting accompaniment on the autoharp. It's a challenge to let the notes ring the way the words do: "In seasons of distress and grief, my soul has often found relief... And oft escaped the tempter's snare, by thy return, Sweet Hour of Prayer."
2. The Autoharp Waltz (H. Reid) This takes maximum advantage of melody notes that are easy to get to on this instrument. I'll take an impish delight if players of other instruments (especially fiddlers) want to learn it, and find it hard to play. We 'harpers have long struggled to play tunes not written for our instrument and it feels good to retaliate.
3. Slipped Through My Hand (H. Reid) I wrote this when I was 25, and it has shadowed me ever since. It's eerie to be a much older man singing what a younger version of me imagined it would feel like when he was older. I have recorded it twice as a guitar instrumental, and twice as a guitar-vocal song, but I have been doing it this way for a while now. F is the best key for both my 'harp and voice.
4. Gold Watch & Chain/ Gospel Ship (Trad.) What is an autoharp recording without any Carter Family tunes on it? These are two classics that I usually sing, but decided to just play as a medley. I spent an afternoon with Kilby Snow at a folk festival when I was about 18. His "drag-note" style obviously stuck in my head, though he was left-handed and did it differently.
5. Scotland Bridge (H. Reid) G Dorian mode is an evocative key for autoharp, and works well with my F-centered instrument. It seems to generate images of a foggy, cold and dimly- lit place. Like Maine. Or Scotland.
6. Times Gone By (H. Reid/B. Silber) Written in 1998 when I got together with fiddle buddy Brian Silber after a many-year break from recording together. This is a remixed & remastered version of that older recording. It doesn't need the fiddle, and I also like to play it solo on the autoharp.
7. Fishing Pond Blues (H. Reid) Groggily written at 6AM to amuse my young son, who thought he understood the words. It was released in 2009 on my Blues & Branches CD, but I thought autoharpers might never find it if I didn't put it on this album. I think I intended it to be a guitar blues, but never stopped doing it on autoharp.
8. Wayfaring Stranger (Trad.) This is a well-known and durable old spiritual, whose origin is shrouded in some mystery. I have always heard it with an American folk, country or bluegrass "accent," but it might have come from Eastern Europe, with a tinge of gypsy or Moorish goatskin bagpipe energy embedded in it. Excellent recorded versions of it abound, but they are rarely instrumental. The autoharp is quiet, but it has a lot of sustain if you listen carefully, and it lets you keep a melody ringing while you do some other things.
9. East Virginia (Trad.) I used to play this when I was a street musician in the 1970's, and when I was rummaging in my brain to find an old-time tune to take for a spin, out it popped. It comes in a staggering number of versions, and has some great words. If you can find someone who knows the same words as you, it's a good one for a jam session.
10. In Dark Winter Rejoiceth (H. Reid) I wrote this in the late 1990's, and released it as a duet with piano on my 1998 Fruit on the Vine CD. I have been performing it solo all along, and decided to make a new version of it for this project.
11. The Train That Carried My Girl From Town (Trad.) Also on my Blues & Branches album. As a young man I played a lot of bluegrass and went to many festivals where you pick with other people, and basically see who can play the fastest. As sweet as autoharps seem to always be, they can also rev up, belch out some smoke and burn a little rubber. I use a 4 (F7) chord where most versions use a 5. (G7) Don't know why, I just like it this way though I never heard anybody do it.
12. Scarborough Fair (Trad.) I've been playing this on my autoharp for decades, and thought I should finally record it. I guess I have the Paul Simon guitar part somewhat in my head. We should all go study the old Martin Carthy version that he swiped. I like John Renbourn's also, with the flute and viola swirling around.
13. Filled With Love (J. Andersen) Quite a number of people are singing this powerful song. It holds up an interesting mirror to certain kinds of people who seem immune to "protest songs." Its strictly positive message is refreshing, and is in the vein of those old ballads sung from the point of view of the mother of the soldier. Joyce wrote it in March 2003, the night before the Iraq war began, partly inspired by having learned that all the world's major religions teach the Golden Rule. After performing it with her for some years I discovered that it makes a great autoharp song. "...And I thank God that He has given me the harp to handle and not the sword."
14. Lorena (Trad.) I recorded this in 1984 on a 4-track recorder, where I added a rhythm guitar and a pretty daring lap steel solo, sans volume pedal. There can't be many autoharp & lap steel duets out there. It's an old Civil War era love song (with great words yet again...) that I think makes a great chromatic autoharp piece. (+)
15. Bully of the Town (Trad.) I also used to play this in the streets when I was a teenager, and kind of forgot about it for most of my career. It requires a tank of hi-test gas.
16. Lament for Abigail Curtis (H. Reid/B. Silber) Another remastered track from the 1998 sessions with Brian Silber. I have always liked the viola and autoharp together. Violas are very sensual, but have found almost no role in the world of American down-home music. Maybe they feel a kinship with autoharps as a result.
This is Harvey Reid's 28th recording, and like all his previous albums, it features live performances of skillfully-played acoustic music. His music has less over-dubbing, compression, pitch correction (never!), multi-tracking, studio production or electronic trickery than in the body of work of almost any contemporary artist. Some digital reverb was added, and some small noises removed, but for the most part this is what you would hear if you were sitting in front of him in the studio when the recording was made. The duets included here are live and unedited performances. Many of Harvey's other recordings feature his autoharp, especially #117, #111 and #103. Enjoy.
All selections ©P1981-2010 by Harvey Reid (Quahog Music BMI)
©2017