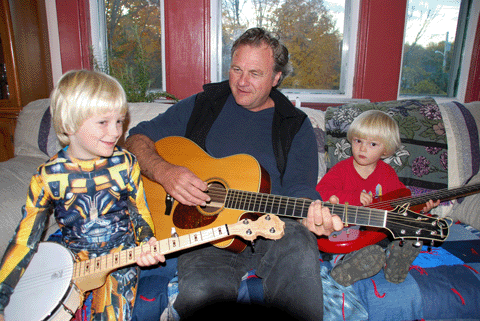 Family Band? It's just a fantasy of mine that maybe my dear boys will grow up to be shiftless musicians like their parents. Moments like this give me hope and scare me. Otto was test-driving his Halloween costume, which sort of looks like Star Trek or heavy metal banjo. Levi is on bass guitar.
The Digital Version of the Harvey Reid Yearly Analog Blog
Greetings yet again from Southern Maine.
I often quote Willie Nelson: "After taking several readings I'm surprised to find my mind still fairly sound."
You have not gotten much in the way of e-mails, postcards or anything from me this past year, because I have stayed home like never before, to be with my family and "re-tool" myself after decades of just chugging along, being one of those traveling guitar players. This newsletter is to say hello, remind you that I still exist, and quickly tell you what I've been up to this year.
I decided to focus this year on books and teaching, my back catalog of music, mail-order sales and launching my new www.partialcapo.com web site, instead of just visiting gas stations & motels and performing. I am booking a lot of concert shows for 2011, which is a good sign.
It's still anybody's guess where the music business is headed, or whether where it goes matters to musicians like me. What pop stars say and do still has very little bearing on what I say or do as an "un-pop un-star." Music still remains as close as anything on earth to magic, in spite of all the digiting and fidgeting, and it has not yet lost its power over people. So I hope to remain a musician, as I always have been. Wish me luck and buy me some more strong coffee. I trust that you are also well.

Chordally yours,
Harvey Reid