It was a very busy year with books and recordings.
I have nearly completed a long project to remix, remaster, re-organize, and re-release music from my back catalog. Some old albums like Circles have been completely re-issued and others have been mothballed, with selected cuts ending up on newer compilations.
Some out-of-print or unreleased tracks from the archives have been included also, and I have re-recorded a number of my older songs, when I feel like I can do a better version now. In many ways my music is stronger than it was 20 years ago, though with some songs I feel like the older versions are still best. I hope you agree.

Songs From A Long Road, a new compilation of my original songs, will appear digitally just before Christmas 2011 and on CD in early 2012.

I pressed the digital-download-only Solo Guitar Project Vol. 1 & 2 into CD's in 2011, and also made Capo Voodoo: Songs. Collected from 11 albums, it is songs rather than instrumentals played with various partial capo setups. The Capo Voodoo book series now has 3 books completed and a few more are well underway as I assemble and release a lot of information about how to play music with partial capos.
More inside...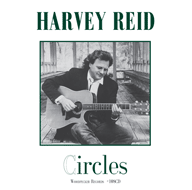 I have always thought that Circles, released in 1993, was one of the strongest albums I ever did. It had some nice guitar and mandolin instrumental pieces though it was mostly focused on songwriting and lyrics. I cherry-picked my life's work to make the Capo Voodoo: Songs and Songs From A Long Road albums, but decided to let Circles remain just as it always was. I did take the time to locate the original master recordings, and completely remixed and remastered the whole album. To my ears it sounds a large quantum jump better than it ever did, while preserving all the original performances the way they were done back when I had long hair and was a much younger man.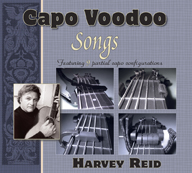 Capo Voodoo Songs CD– $12.95


Dreamer or Believer (Reid), St. James Infirmary (Trad.), From Where I Stand (Reid), How Can I Keep From Singing* (Trad.), The Cuckoo (Trad.), The Lakes Of Pontchartrain (Trad.), I Have Finally Found A Home (Reid), Once Upon A Time (Reid), Maybe Someday* (Reid), Farther Along (Trad.), A Very Old Song* (Reid), Roving Gambler (Trad.), Short Life Of Trouble (Trad.), Twilight (Reid), The Boatman (Reid)