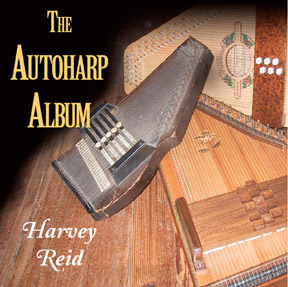 "The Autoharp Album"
...Harvey Reid's first autoharp recording
Order it now to be sent to you
Woodpecker Multimedia announces the 2003 release of The Autoharp Album, the long-awaited autoharp CD by acoustic string legend Harvey Reid. Though known primarily as a guitarist and songwriter, Reid is one of the finest autoharp players and composers ever. This recording shows what the instrument can do in the hands of a true master, and on The Autoharp Album he showcases his remarkable playing technique, while also bringing a significant body of new music to the repertoire of the instrument. Reid's original compositions and brilliant arrangements of traditional melodies cover a wide spectrum of music on both chromatic and diatonic instruments. Except for some duets with Joyce Andersen on violin and an occasional rhythm guitar, this uncluttered recording is a purist's delight of unaccompanied autoharp, focusing on Reid's rich solo sound. The generous 74 minutes of music include 21 beautifully-recorded tracks, ranging from Appalachian to ragtime, polka, old-time, blues, semiclassical; Irish, Scottish, and Norwegian folk songs, as well as Reid's own brilliant compositions. To honor the roots of country music, he has included reverent renderings of songs from the Carter Family and Jimmie Rodgers. Harvey also pays tribute to the great Kilby Snow, and covers a powerful David Francey song. A variety of autoharps are employed, and 3 cuts were recorded with Bryan Bowers' personal instruments. Reid closes the album with a haunting Willie Johnson gospel song recorded on an antique 1885 Zimmermann autoharp, one of the first instruments ever made. The 17 instrumentals and 4 songs contain 9 Reid originals, including 4 brand new compositions, as well as stellar re-recordings of three of Reid's best-known autoharp songs. READ THE REVIEWS
If you are interested in the autoharp, you also might want to pick up a copy of the 3-CD set "Autoharp Legacy" that contains performances from 48 of today's important players, including Harvey Reid. It's the quickest way to get an overview of the kinds of things people are doing, and Woodpecker Records is one of the few places you can get one. You can get the sheet music TAB to "Waltz of the Waves" or "Not Grieve the Dying Light" from Harvey's web store..
Listen to the "Autoharp Album" (it is available for legal digital download on iTunes and many other services...)
Here are mp3's of the first minute of each of the cuts on the CD, in the order they are on the CD. Two complete cuts ("Waltz of the Waves" and "Lowlands of Holland") are available on Harvey's mp3 download page.
| | | | | |
| --- | --- | --- | --- | --- |
| SONG TITLE | VOCAL? | AUTHOR | FILE SIZE | DOWNLOAD |
| Waltz of the Waves | no | Harvey Reid | 944k | |
| On the Sea of Galilee | no | Trad. | 951k | |
| Ung Aslaug | no | Trad. | 945k | |
| The Lowlands of Holland | yes | Trad. | 1101k | |
| The Autoharp Polka | no | Harvey Reid | 940k | |
| Southwind/Simple Gifts | no | Trad. | 1637k | |
| The Coming of Winter | no | Harvey Reid/ Brian Silber | 1400k | |
| The Flowers of Saskatchewan | yes | David Francey | 948k | |
| John Henry | no | Trad. | 932k | |
| Not Grieve The Dying Light | no | Harvey Reid | 947k | |
| Civil War Medley | no | Trad. | 948k | |
| Peach Picking Time | no | Trad. | 938k | |
| Lament For a Cabin Boy | no | Harvey Reid | 942k | |
| Down Yonder Medley | no | Trad. | 938k | |
| The Flower of Loudoun County | yes | Harvey Reid | 947k | |
| The Harp That Once Through Tara's Halls | no | Trad. | 952k | |
| Frankie & Johnny | no | Trad. | 930k | |
| Bouree in G | no | Harvey Reid | 935k | |
| Maplewood March | no | Harvey Reid | 947k | |
| Gathering the Harvest | yes | Harvey Reid | 1427k | |
| Let Your Light Shine on Me | no | Trad. | 944k | |
About the Autoharp
The autoharp, or "chorded zither" is the only surviving member of a surprising number of mechanical zithers that appeared in the late 1800's. It is the only folk instrument of American origin, and a rare instance of an invented instrument falling into the folk tradition. It was patented in 1882 by Charles Zimmermann, who manufactured the first instruments in Philadelphia. Intended to be played on a table or in the lap, it was used as a chordal accompaniment to songs. The notched felt chord bars dampen certain strings, in the manner of the muting techniques of zither players. It sold widely as a novelty in the 1890's, and a large number were sold in the Sears catalog. As many as 500 autoharps a day were made at the peak of popularity in 1895. When the first recordings were made in the Southern mountains in the 1920's, a number of musicians turned up (notably Ernest "Pop" Stoneman) playing melodies and old-time music, often holding the instrument upright in what is now called the Appalachian style. The immense popularity of the Carter Family in the 1930's brought the instrument to a wide audience and established its primary role for the accompaniment of folk songs, though it never became commonplace or was ever really heard as a melody instrument. The Oscar Schmidt company was the only manufacturer for decades, and for many years autoharps were made almost exclusively for use in school music classrooms. The autoharp was featured on some Folkways recordings in the 1960's, and played by a number of popular folk performers such as Mike Seeger, Janis Joplin, Ian & Sylvia and John Sebastian. A number of musicians then began playing the instrument more seriously, and Bryan Bowers emerged as probably the most influential and notable player ever. He popularized the diatonic instruments, which play in fewer keys, and feature pairs of unison strings. Their full, shimmering sound is similar to the way a 12-string guitar differs from a 6-string. In recent years, the number of autoharp builders and players has grown steadily, as has the instrument's repertoire and visibility.
There have been some very high-profile autoharp appearances in the last few years: notably; Mitch & Mickey (played in character by actors Eugene Levy and Catherine O'Hara [autoharop player] from the hit comedy "A Mighty Wind") performing on the 76th Annual Oscar Awards TV broadcast when their duet "Kiss at the End of the Rainbow" was nominated for Best Song), Scottish actor (and fomer folk musician) Billy Connolly doing a marvelous scene in the Lemony Snicket movie singing a song with his autoharp and a boa constrictor around his body, and also Reese Witherspoon's Oscar-winning appearance playing autoharp in her role as June Carter Cash in the Johnny Cash move "Walk the Line." Mike Seeger played a beautiful autoharp part on "Long Journey" in the multiple-Grammy-winning CD collaboration with Alison Krauss and Robert Plant in 2008. Cat Power also played autoharp on the soundtrack to the Oscar-winning Juno movie in 2007.
About Harvey Reid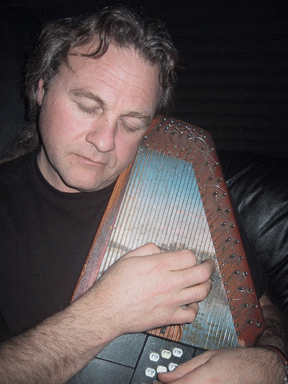 Harvey started playing the autoharp in the summer of 1972, at the age of 18. He is known primarily as an acoustic guitarist, composer and songwriter, and was the 1981 National Fingerpicking Guitar Champion. A full-time professional musician his entire life, he has recorded 26 highly-acclaimed albums of acoustic music on Woodpecker Records. He also plays the mandolin and 6-string banjo, but has always featured the autoharp prominently on his recordings and in his concerts. His unique style, impeccable tone and uncannily accurate melody-playing technique are rooted in his deep knowledge of traditional American music, and in the intricate right-hand picking skills borrowed from his guitar background. He was the winner of the International Autoharp Competition in 1982, and his CD Steel Drivin' Man was voted in the Top 10 Folk CD's of all time by Acoustic Guitar Magazine.
Harvey's Comments
"As a solo artist primarily, I have always been attracted to the autoharp, because of its emotional sensibilites, and because it is one of the few instruments capable of making a complete sound on its own. (the other common examples are guitar, piano and accordion.) It generates a lilt, and certain rhythms, and has ways of phrasing melodies that are unique. As someone who has delved deeply into the world of plucked strings, it has something that nothing else can do the same. The fact that the autoharp is not my primary instrument (guitar is) makes me better qualified to understand what makes certain music appropriate for the instrument.The autoharp is capable of more rhythms and flavors than it usually is used for, and there are many songs that I have tried to play on guitar, banjo or mandolin, that I have eventually decided work best on autoharp. (I have included many of them here.) I also feel that it is an instrument in need of a larger repertoire, and though I have included some standards here, I wanted to make a point to write and arrange new autoharp music, for the most part that would be playable by 'harpers with ordinary instruments. (As opposed to making special chords or using unusual tunings etc.) Rather than use too much production, I have opted for rather sparse, solo arrangements that let the instrument ring and be heard unadorned, and not covered up with too many other instruments. Many players forget that a single note on an autoharp is lovely, and I feel that because it is quieter than some of the other instruments, people tend to play too many notes to try to over-compensate. It is actually easy to play a lot of notes on an autoharp-- the real challenge is to play a melody cleanly and carefully, with just the right amount of rhythmic and chordal support. I think I am possibly the only serious fingerstyle guitarist who also plays autoharp seriously, and that training gives me a right hand and counterpoint technique that has opened up a lot of doors.
I especially hope that more young people will pick up the torch and play autoharp. There are not enough of them playing right now."
Read Harvey's wonderful essay/confession on teaching autoharp.
Order "The Autoharp Album" now
THE SONGS Waltz of the Waves (H. Reid) * On the Sea of Galilee (Trad.) * Ung Aslaug (Trad.) * The Lowlands of Holland (Trad.) * The Autoharp Polka (H. Reid) * Southwind/Simple Gifts (Trad.) * The Coming of Winter (H. Reid/B. Silber) * Flowers of Saskatchewan (D. Francey) * John Henry (Trad.) * Not Grieve The Dying Light (H. Reid) * Civil War Medley (Trad.) * Peach Picking Time (J. Rodgers) * Lament For a Cabin Boy (H. Reid) * Down Yonder Medley (Trad.) * The Flower of Loudoun County (H. Reid) * The Harp That Once Through Tara's Halls (Trad.) * Frankie & Johnny (Trad.) * Bouree in G (H. Reid) * Maplewood March (H. Reid) * Gathering the Harvest (H. Reid) * Let Your Light Shine on Me (Trad.)
Available in CD or digital download from iTunes and other download services or by mail, phone, fax, e-mail (

) and from a few specialty stores. Inquire about dealer and distributor pricing. .For more information on ordering click here.
---
WOODPECKER MULTIMEDIA
PO Box 815 York Maine 03909 USA
phone (207) 363-1886



This web site concerns the music and life of acoustic musician, writer & music educator Harvey Reid.
If you don't find what you want, or if you have comments or questions, please email to