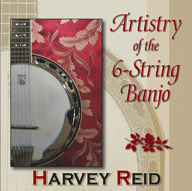 Artistry of the 6-String Banjo by Harvey Reid
ORDER IT NOW
This CD was re-packaged and re-mastered in 2008, with new art work. The music and tracks are the same, but the art work is different, and the sound is improved.
FALL 1995
Renowned acoustic instrumentalist and songwriter Harvey Reid has released his 11th solo album on Woodpecker Records, a collection of 21 pieces played on 6 &12-string banjo. Artistry of the 6-String Banjo is the first album ever devoted entirely to this instrument, and may prove to be the definitive one. From Scott Joplin to old-timey to Bach to blues, jigs and rags, flamenco and Chuck Berry-style riffs, Reid puts this instrument through its paces and demonstrates once and for all that the 6-string banjo is a real instrument with its own techniques and repertoire.

The 6-string banjo, essentially a guitar neck on a banjo body, has existed in a small corner of the music world for over a century, never having become either popular or rare. The instrument has been made sporadically by various manufacturers over the years, and is one of many members of the banjo family; the 5-string being the most common, followed by the 4-string (used in Dixieland and Celtic music), plus a number of unusual bass, baritone, ukelele and mandolin-banjos.

Reid says "Playing the 6-string banjo it is not simply a matter of playing guitar music to get a different sound, since it responds very differently than a guitar. It seems to frustrate both banjo players and guitar players, who can't seem to make it sound like either instrument. Though the 6-string is often ignored as a mutant hybrid, I find it to be an alive, subtle, sensitive and expressive instrument with many voices, capable of expressing the various moods of classiccal, folk, old-time, bluegrass, celtic, ragtime, blues, and even rock & roll music. I have been constantly surprised by what music works well on it, and also by what doesn't."

Artistry of the 6-String Banjo showcases Reid's arrangements of traditional pieces as well as his own compositions, and includes 3 cuts with 12-string banjo (*), including a slide blues, 4 selections he has previously recorded on guitar, as well as 7 written for the banjo. Reid attributes his success with this instrument to his 25 years playing fingerstyle & flatpicked guitar, bluegrass, blues and Celtic music, his invention of the use of a partial capo on guitar to achieve drone effects similar to a 5-string banjo, and to the re-design of the instrument by Deering Banjos of Lemon Grove, CA.

Artistry of the 6-String Banjo is catalog #110, available in CD (retail $16.95) and cassette by mail, phone, fax, e-mail

) and from specialty stores nationwide. In quire about dealer and distributor pricing. [add $2 per item for mail order shipping in US and Canada] most of Harvey's other 19 recordings are also available from us.

SELECTIONS:
The Entertainer, Jesse James, The Gaoler's Jig*, Six-Shooter Stomp, Minuet In G, Mock Orange, The Sailor's Hornpipe, Sitting On Top Of The World*, Rickett's Hornpipe/Boys From Bluehill, Bill Bailey, Andelusia Revisited, Suite: For The Duchess, Old Black Joe, Good For Nothin' Blues, Chanoyu, Cindy/Cripple Creek, Bonaparte Crossing The Rhine*, Pieces Of Eight, Canal Street Strut, The Cuckoo, The Unknown Soldier
****

for more information about Harvey's 6-String Banjo (he plays an MB6 Maple Blossom), contact

Deering Banjos 3733 Kenora Dr Spring Valley, CA, 91977-1829 800-845-7791 619-464-8252 fax: 619-464-0833