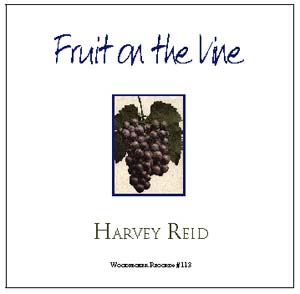 Woodpecker Records- #113 Fruit On The Vine
by HARVEY REID released 1998

Fruit on the Vine, the 13th solo recording by multi-instrumentalist and songwriter Harvey Reid, is a showcase of his creative skills and peerless musicianship. The 7 songs & 10 instrumentals are mostly new compositions; there are 13 originals, 2 covers of contemporary folk songs, and 2 traditional songs. Many of the tracks are reminiscent of traditional songs and tunes; included among the 62+ minutes of music are several fiddle tunes, a guitar rag, a gospel duet, 3 autoharp compositons, 2 pieces for the octave mandolin, plus deeply lyrical songs in the new folk, bluegrass and traditional folk styles. There is also a stunning new compostion for the 6-string banjo, an instrument Reid has explored further than anyone else in its hundred-year history. Fruit on the Vine presents 3 new collaborations with violinist and violist Brian Silber, the first new original material they have written together since their much-acclaimed work on Reid's 1986 release The Coming of Winter. 8 of the tracks are solo pieces and 9 are duets & collaborations with some of Reid's musical associates, several of whom he has been working with for over 20 years. Included are some of the most respected names in New England's acoustic scene.

Much of the CD was recorded in Reid's trademark direct-to-digital audiophile purist style, though it does contain several multi-track songs, something he has not done since 1983. There is some of his finest picking, songwriting, arranging and singing here, and his long-term fans will find this CD right on track with his work of the past, and possibly his finest work ever. Fans of his national champion fingertsyle guitar playing will find it well represented here, and the autoharp community will find some welcome new gems written for that instrument.

Harvey Reid has always defied categorization, being adept on numerous styles of playing, and on several instruments, and being one of the few who is equally involved in both songwriting and in writing and performing serious instrumental work. Fruit on the Vine represents a flowering of his own flavor of American acoustic music; one that draws from the folk, celtic, classical and bluegrass traditions. It marks more of a return to Reid's origins in bluegrass and traditional music than it does in the direction of any of the sounds of the New Folk movement, and might well fit under the unmbrella of the new Americana genre. He has woven together the threads of his musical influences into a powerful and distinctive sound; one that is familiar, yet not suggestive of the work of any other artist. His previous CD, a 2-disc live set titled "In Person" focused on his slide guitar blues, humor and up-tempo rocking, and this one reveals a more thoughtful and lyrical side to his art.You can hear the echoes of the bluegrass he played in his youth, and you can hear the sounds of northern New England, where he has made his home since 1979, and a lot in-between.The Liner Notes to Fruit on the Vine are available only on the internet.

Harvey Reid's musical roots are deep in the soil of American traditional and contemporary acoustic music; his life has been one of total devotion to his art and focused on mastering his instruments and styles of playing them. After 25 years and over 4000 gigs as a working acoustic musician, Reid's sound has grown and matured, his creativity has blossomed, and this is the sweet fruit of his endeavors. It should be a welcome addition to the music collection of any of his many current fans, and no doubt will win him many new ones.
Brian Silber-violin, viola,Rick Watson-keyboard, Lynn Rothermich-vocals, Anne Dodson-vocal +tin whistle, David Surette-mandolin, Matt Szostak- hurdy gurdy, T.S. Baker: vocal, Gary Sredzienski: accordion, Kent Allyn: bass

THE SONGS
1- Macallan's Jig (H. Reid)[Solo guitar]
2- I Have Finally Found a Home (H. Reid)[Guitar, 2 vocals, whistle, accordion, hurdy gurdy]
3- Times Gone By (H. Reid/B. Silber)[Autoharp, violin]
4- Silver Midnight Moon (H. Reid)[Guitar, vocal]
5- The Magnolia Promenade (H. Reid)[Solo guitar]
6- Babylon Is Fallen (Trad./Arr. H. Reid)[Guitar + 2 vocals]
7- The Great Pyramid (H. Reid/B. Silber)[Octave mandolin + violin]
8- Farewell to the Gold (P. Metsers)[Guitar + vocal]
9- In Dark Winter Rejoiceth (H. Reid)[Autoharp, keyboard]
10- The Lucky Penny (H. Reid)[Solo 6-string banjo]
11- It's A Banjo Playing (H. Reid)[Guitar + vocal]
12- Above the Clouds (H. Reid)[Solo slide guitar]
13- Aragon Mill (S. Kahn)[Guitar, 2 vocals, mandolin, bass]
14- Lindsay Road (H. Reid)[Octave mandolin, guitar]
15- This Old Heart of Mine (H. Reid)[Guitar, 2 vocals, viola, bass, accordion]
16- Lament for Abigail Curtis (H. Reid/B. Silber)[Autoharp + viola]
17- The Ash Grove (Trad./Arr. H. Reid)[Solo guitar]

---