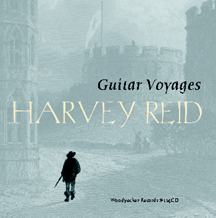 The New Harvey Reid CD-- "Guitar Voyages"
by HARVEY REID NOW AVAILABLE Click Here to Order
Reviews ... READ SOME

Woodpecker Records is pleased to announce the release of Guitar Voyages, Harvey Reid's 14th recording on Woodpecker Records, and his first in 2 years. It is also his first solo guitar project since the much-acclaimed Solo Guitar Sketchbook in 1989, and consists entirely of new, unreleased material. With a generous 15 cuts that fill over 66 minutes, it introduces 11 new Reid compositions, plus 4 arrangements of traditional songs. Two cuts showcase the 12-string, (including the monumental work Pegasus) and two are slide guitar pieces. The rest are played on Harvey's Taylor and Larrivee 6-string guitars, and they showcase his guitar skills at their prime, recorded in astounding 24-bit high-resolution digital clarity in the new Woodpecker state-of-the-art studio. (Yes, the sound quality is dramatically better than any of Harvey's previous recordings.) You have never heard an acoustic guitar recorded with such beauty and intimacy, and guitar purists will appreciate the "living stereo" imaging, incredible presence, and the lack of effects, commercial production and compression.
There are strong flavors of Celtic and classical music here, but mixed with deep echoes of the blues, gospel, folk and bluegrass Harvey has played all his life. Free from clichés and mere mimicry, Guitar Voyages pays homage to many styles, but is new, distinctive, strong and pure, and unmistakably Harvey Reid music. Harvey's picking is cleaner and more sure than ever, his tone is glorious, and his guitars ring with unequalled authority and passion. The richness, clarity, energy, memorable melodies, crisp rhythms and sheer beauty you have come to expect from Harvey's guitar are all here in abundance. Guitar Voyages is a major new work from a mature and productive artist, and shows Harvey Reid at his finest, while presenting a substantial body of new concert music for the solo acoustic guitar.
Guitar Voyages signals Reid's decision to avoid merely working in established guitar styles and to expand -his own, and marks a new direction in the evolution of the American acoustic guitar sound. It's not classical music, it's not New Age music­ but it is a distinctly American, highly polished but still an earthy, hand-hewn steel-string sound. Forged out of the folk traditions of acoustic guitar, Reid's guitar style has been refined to a new clarity and focus by his formidable technique, musicianship and 30 years of experience as a performer and composer.
Music lovers are in for a remarkable listening experience, and a guitar voyage of their own.

Catalog #114, available in CD only (retail $16.95) by mail, phone, fax, e-mail (

) and from specialty stores nationwide. Inquire about dealer and distributor pricing. [Add $2 per item for mail order shipping in US and Canada.] Harvey's other 11 recordings are also currently available.
To order Guitar Voyages on-line from our order form
---
PERSONNEL:

All tracks recorded and performed by Harvey Reid with an acoustic guitar and nothing else.

---

THE SONGS

1- Racing the Storm (H. Reid)(4:46)
2- The Lost Lullaby (H. Reid)(4:03) [12-string]
3- French Quarter Concerto (H. Reid)(8:20)
4- Life Is Like A Mountain Railroad (Trad./arr. H. Reid)(3:10) [slide guitar]
5- Norway Suite Part 1: The Waterfall (H. Reid)(4:21)
6- Part 2: Across The Fjord (H. Reid)(3:03)
7- Part 3: Farewell to Vikedal (H. Reid)(3:45
8- Pegasus (H. Reid)(6:58) [12-string]
9- Uncloudy Day (Trad. /Arr. H. Reid)(3:16)
10- Scotland Suite: Part I: Requiem For The Last Minstrel (H. Reid)(9:57
11- Part II: The Speyside Jig (H. Reid)(2:08)
12- Part III: The Hills of Torridon (H. Reid)(3:54)
13- Flüf's Vacation (H. Reid)(3:01) [slide guitar]
14- Miss the Mississippi (J. Rodgers/ Arr. Reid)(3:15)
15- Skye Boat Song (Trad. /Arr. H. Reid)(2:01)
---