Liberty House Concerts
York Village, Maine
Concerts will start up again in May or June 2017. Ask about joining the invitation list. All concerts are different- wide variety of songs, instruments and energies...
| | |
| --- | --- |
| 2016 | Here is last year's late summer & Fall schedule... |
| Sat Aug 6 | Concert with Harvey & Joyce -7pm ["Originals" Night featuring their music] |
| Sun Aug 7 | 6pm concert w/ Harvey & Joyce |
| Fri Aug 12 | Concert with Harvey & Joyce -7pm [Celtic Night w/ guests Billy & Mary Walsh] |
| Sat Aug 13 | Concert with Harvey & Joyce -7pm [Duet Night] |
| Thu Aug 25 | Hank & Dixie & the Knotty Pine Boys [J & H's country band] 7pm only Thurs. show this summer |
| Fri Aug 26 | Concert with Harvey & Joyce -7pm- [Traditional music Night] |
| Sun Sep 4 | Sunday Concert with Harvey & Joyce - "Goodbye to an amazing summer" concert -6pm |
| Sun Sep 11 | Sunday Concert with Harvey & Joyce (9/11 show featuring Gospel & Peace songs)-6pm |
| Sat Sep 17 | Concert with Harvey & Joyce -7pm |
| Fri Sep 30 | Special concert with Joyce & folk legend Eric Andersen -7pm |
| Sat Oct 15 | Concert with Harvey & Joyce + special guest Bryan Bowers-7pm (changed from Sunday) |
| Fri Oct 28 | Final Concert of 2016 Season with Harvey & Joyce -7pm |
| | |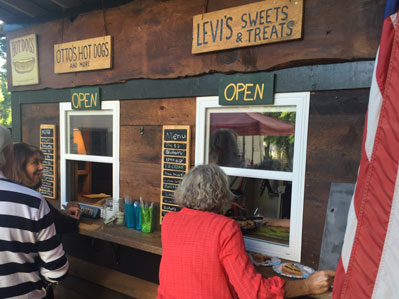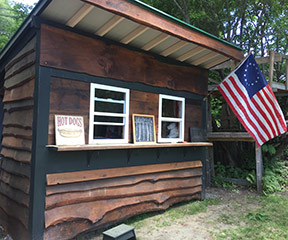 <– Kid's snack bar was a smash hit last season! Enjoy Otto's Hot Dogs Etc and Levi's Sweets & Treats
Catch some music, and enjoy the beaches, cool breezes, surfing, seafood and hospitality of this popular & historic resort town. There are no advance tickets or reservations, but we appreciate an email letting us know if you are coming. (mail to: info at woodpecker.com)
There is no admission charge. You can contribute $10, $20 or $50 to our cause below, or donate in person at the concerts as you wish.
OR IF YOU'D PREFER TO USE PAYPAL...
Download parking map PDF with directions. From I-95, take Exit 7 to York, head for town on 1-A (follow Hospital signs) veer left at statue, 5th house on the left. In the village proper.
Our funky but beautiful 1888 carriage house is now a 70-seat concert venue (we have called it "Uberlocal" but now call it the LIBERTY HOUSE) where we have begun performing, teaching and reaching out to other musicians, local listeners and friends. We'll spare you the long diatribe about the collapse of the music business, but after traveling and performing widely for decades, we have decided to dig in here in York and raise a family. We put considerable effort into creating a stellar music performance room at our home and sharing what we do with friends, fans and neighbors. We have better ambiance, sound & lights than most venues we have performed at in our careers, and a big yard for people to park and kids to play. We have some nice heaters that allow us to be cozy any time it is above freezing. Read a more detailed explanation of this project.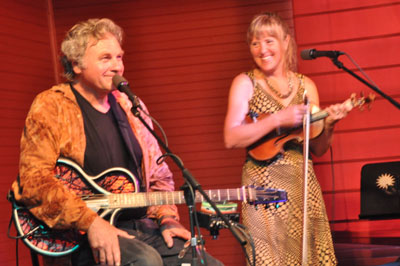 We'll keep you posted if you are on our local email list. We generally will not be posting this in either social or local media, and encourage you to do the same and not post pics or videos anywhere.
Bring children if you like, to listen or run around outside with ours...We love kids and want them to see and hear music.
We'll need to teach you where to park. We can fit about 35 cars on our property, and are adding some new spaces. Unlike the past summers, we will have some rainy-day events.