You have Found the Online Edition of the 2001-2002 Harvey Reid Newsletter...
This is my once-a-year-or-so paper "Hello I'm still here I hope you're still there...", in case you have been unable to follow my life in the tabloids. This goes by bulk mail to everyone on the mailing list, so if you did not get this, keep reading to find out what to do.
I threatened last year to stop printing these paper newsletters and just do an e-letter, but there was a loud howl from the fans out there (I did not know there were so many people who needed birdcage liners every year) and I have stayed the hangman's noose from the neck of the paper newsletter. The on-line version posted on the website has color pictures, though. It is unclear if you would be considered "cooler" to be seen reading the paper version or the on-line version at a cyber-cafe in Paris, for example.
As a folk musician, I do not have the relentless pressure to re-invent myself that rock stars face, so here I am again after another busy year saying hi, posting wacky pictures, and telling you about the new CD. There is always a new CD, if you have not figured that out yet. They grow like weeds here on the CD farm in Maine. "CD Acres" (or "Seedy Acres") I guess I should call it, although it's only .9 acres.
As always, I hope you are all well, especially in these troubled times, and if you have a stable e-mail address, please send it along and save me the postage.

Chordally yours,
Harvey Reid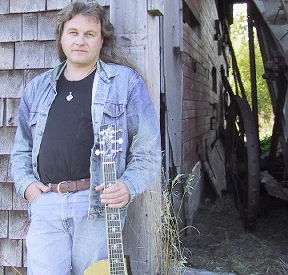 Go to Page 2 of this Newsletter Read old Newsletters
Read the 1999 Mini-Newsletter that was E-mailed Dec 1999
Read Harvey's 2001 Newsletter Essay: "A Musician Looks at Sept 11"
---

* There was an enthusiastic welcome from media, listeners and customers for the Guitar Voyages instrumental solo CD. It was a major artistic statement and life work for me, and I am still performing a lot of the material from it regularly.
* Am still doing a lot of performing with fiddler/singer Joyce Andersen, though we are also both doing solo performing. We are both planning new solo records, as well as another duo recording.
* I heard an unconfirmed rumor from a friend this year that Bob Dylan got the idea to do a rocking arrangement of the traditional Duncan & Brady (he has been opening shows with it) from my version.
* Doc Watson, my #1 hero, told me recently that he was listening to my 6-string banjo album, and playing a Deering 6-string banjo himself these days. He is picking and singing with great strength still, and is a new inspiration to me, because he is not a young man. It is an honor that he knows my name and listens to my music. Go Doc go.
* Scottish movie & TV star and comedian Billy Connolly (from Mrs. Brown, among other credits) still has not paid me a cent for using my song "Waltz of the Waves" in a hit video and TV show he did called "Musical Tour of Scotland." He owns dozens of castles but can't seem to find the royalty money he owes me. I am most annoyed because he called me and said he would pay me. They say that you never have to ask a gentleman for money more than once, Billy.
* It is almost impossible to find my recordings in stores, but people are figuring out that they can get them on the internet easily enough. E-orders have been strong, and we ship quickly and don't do sleazy things like web cookies or selling your customer information. Shame on those who do.
* I have decided to archive the contents of my studio onto CD, and will be sorting through the various tapes I have amassed over the years and preserving them. This winter I plan to start offering custom CD's for sale, at $1.50 per song, of cuts from out of print LP's, out-takes from sessions, live recordings and other things I have in the vaults that I never felt like putting on an official CD. This means some funny stuff, jam sessions, lost songs, and a lot of other music. It will all be for sale on the web site only. Not MP3's-- real CD quality, with credits, liner and historical notes.
* My non-profit local arts project, the Seacoast Guitar Society is doing great after 2 yrs. Visit us.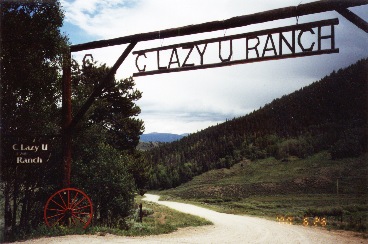 Favorite Road Pic. This was somewhere in Colorado. Made me laugh on a long drive.
---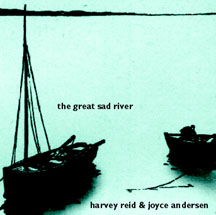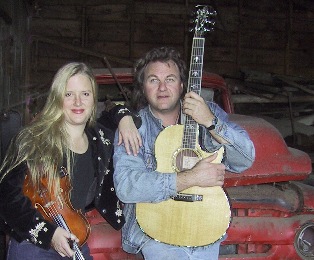 NEW CD: The Great Sad River
I released my first collaboration CD in the summer of 2001. It is titled The Great Sad River, (Songs of love, water & darkness) and consists of duets with singer/fiddler/songwriter Joyce Andersen. I wrote 5 new songs and 2 instrumentals specifically for us to play together, and am excited about having a big chunk of strong new music that I love performing. It also includes a bluesy song of Joyce's, a Jesse Winchester classic, a traditional Scottish ballad, a gospel stalwart, an unreleased (by Bob) Bob Dylan masterpiece, a converted rocker from Seattle grunge hero Pete Droge, and a gem from Canadian gemwriter David Francey. It features tight duet singing, along with some imaginative instrumental work, and has gained a lot of airplay and acclaim. I have often worked with female singers, and with a violin, so it is not a radical departure in any way, but Joyce's energy and lovely voice take us in some new directions. So far the response from my loyal fans has been 100% favorable, and many have said it is my best work ever. I guess it's a good thing to have that tempering/balancing/yin-yang female energy. $16.95 + $2 shipping.

Moonshiner's Blues, The Great Sad River, Will You Go To The Sea, Home Again, The Wreck Of The Isidore, Well Well Well, The Fourth Of July, Torn Screen Door, The Road To Hiram, Mississippi You're On My Mind, Stand Clear, The Rose Of Allendale, Farther Along

---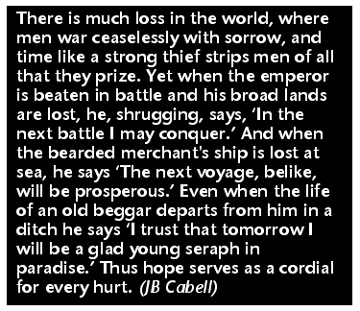 ---

I have been planning to write a shipwreck song for some time, and happened upon a powerful tale of a shipwreck that occured in 1842 in a blinding showstorm at Bald Head Cliffs in Cape Neddick, Maine, about 4 miles from my house. (Below) It is about the worst place anywhere around here for a ship to hit shore. Because of the circumstances of the wreck, the powerful story of the crew's premonitions of disaster and the lingering reports by local fishermen of a ghost ship, it was said that the story of the wreck of the Isidore would endure forever in the folklore of the region. The story has of course been largely forgotten, and is a fine example of how local history and storytelling are quickly lost in the swirl of modern media. I made the story of the wreck into an epic (7 minute) ballad that appears on the new CD as Part 3 of what I call the Sailor's Fate Trilogy (Tracks 3-5). It tells the tale rather faithfully, and even a real sailor would have a hard time arguing with the chorus:

"And we sing once more of the Isidore,
Of the cold New England sea
Where the hand of fate and a sailor's life,
Forever 'twined shall be."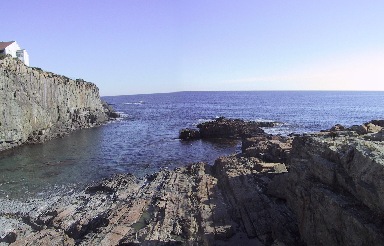 PIC: The site of the wreck in 1842. The ship probably landed just to the right of the black protruding rocks in the center of the picture.

On November 30, at 10AM, the Isidore sailed south with a load of cargo from Kennebunkport, Maine. She had a crew of 15 local men, under the command of Captain Leander Foss, age 36. She was a 396 ton barque (or bark) which is a 3-4 masted vessel, ranging from 100 to over 300 feet in length. On the nights before they were due to sail, two sailors complained of bad dreams, but their pleas to stay in port were ignored by the captain who was determined to sail on schedule. One sailor reportedly saw his own face among seven coffins on the shore, and a seaman named Thomas King, even though he had been paid a month's salary in advance, was so frightened by his own dream that he hid in the woods when the ship sailed, actually risking imprisonment for violating his contract.
The Isidore ran into bad weather almost immediately after leaving port when a gale blew in. She made it only 12 miles south, and her wreckage was found washed ashore the following morning. All aboard perished, and only seven bodies were found in the snowdrifts on the shore, including the sailor who dreamed of the coffins. Fisherman reported seeing a ghost ship with a phantom crew for many years afterward, and even now the patrons of the resort hotel there at the crash site talk often of the ghost ship, though few know the details of the story. The wreck of the Isidore played an important role in the decision to build the famous Nubble Lighthouse in 1879 in neighboring York, Maine, which is actually the next outcropping of rock south of Bald Head.
I have gotten increasingly interested in the Isidore, and have begun digging up more facts and rumors. History is a kind of a drug, and you find yourself getting pulled deeper into the story. After I wrote the song I remember thinking "I know more than enough about this now," and then a week later I started wondering where the ship was going. (She was headed for New Orleans to pick up some cotton to take to France to sell.) There are a thousand wonderful details to this tale. The cabin boy George Lewis was a skilled woodcarver, and while waiting for the ship to sail he carved his name beautifully in the boards of a building on the wharf. It was apparently a tourist attraction for many years until it burned.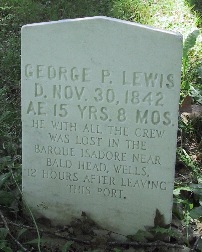 The gravestone of the cabin boy in Kennebunkport, ME (at right)

Shipwrecks were the airplane crashes of old, and this one is hard not to think about when you watch the icy waves crashing here on the rocky Maine coast. These were local men, on a local ship, on her maiden voyage. It is impossible to imagine being in a wooden ship on a moonless night in a terrible storm with no flares, helicopters, cell phones, radios or survival suits. These unfortunate men had only their courage and their oilskins, and what they experienced that night is beyond my comprehension. May they rest in peace, and may we all be reminded that we are here but by the grace of powers larger than we.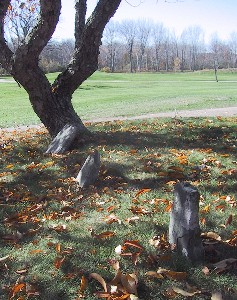 3 of 5 nearby unmarked graves, probably the other Isidore crew.

Go to Page 2 of this Newsletter Read old Newsletters
---
WOODPECKER MULTIMEDIA
PO Box 815 York Maine 03909 USA
phone (207) 363-1886



This web site concerns the music and life of acoustic musician, writer & music educator Harvey Reid.
If you don't find what you want, or if you have comments or questions, please email to