---

It's called The Autoharp Album, and except for a few duets with Joyce Andersen on violin and an occasional rhythm guitar, this is 74 mins. of purist's delight of unaccompanied autoharp. I am thrilled with the sound quality, it's all in perfect tune, and I even borrowed 7 other instruments to get some sounds and play in some keys I can't get with the one I usually play. There are 4 songs and 17 instrumentals, and I wrote 4 brand-new autoharp pieces and arranged a number of other things, and also re-recorded a few of my old favorites because I think I am singing and playing better than ever. The sound quality is superior. Included also are songs from the Carter Family and Jimmie Rodgers, and a tribute to the great Kilby Snow.

The Songs

Waltz of the Waves * On the Sea of Galilee * Umg Aslaug * The Lowlands of Holland * The Autoharp Polka * Southwind/Simple Gifts * The Coming of Winter * Flowers of Saskatchewan * John Henry * Not Grieve The Dying Light * Civil War Medley * Peach Picking Time * Lament For a Cabin Boy * Down Yonder Medley * The Flower of Loudoun County * The Harp That Once Through Tara's Halls * Frankie & Johnny * Bouree in G * Maplewood March * Gathering the Harvest * Let Your Light Shine on Me

"The Autoharp Album, an aptly named title for your latest masterpiece since; it is THE autoharp album. If anyone doubts this instrument's depth, complexity, power and grandeur, this project will lay all such skepticism to rest. I've never heard anything quite like it before - in your hands the autoharp takes on old ballads, fiddle tunes, blues, ragtime, gospel and even classically tinged tunes with equal aplomb, taste and class... It's truly not only a labor of love, but a work of art as well; a seminal album that I hope will spur a revival of interest in this often neglected instrument." Dave Higgs (Bluegrass Breakdown)
"A gorgeous album of autoharp instrumentals and songs. If you buy only one folk CD this century, this is the one to buy." John Weingart (WPRB Radio)
"Anyone interested in the autoharp should have this CD." Tradition Magazine
"The Autoharp Album contains Harvey Reid's distinctive style at its best... It would be categorized appropriately as "Leave in CD Player– Don't File" The Autoharp Quarterly
"The Autoharp Album is sublime. It challenges the virtuosity of Reid's 17 or so other albums not just because an autoharp album is still rare but because the musicianship and production...are so exquisite." PORTSMOUTH HERALD
More about The Autoharp Album (and listen to it...)

---
Any of you who use Macintosh computers and use the popular photo management software iPhoto may have noticed that the default music for the slide show is a recording I made of Bach's Minuet in G. It was a special re-recording of it I did at their request, and yes, they got my permission and paid me. I put it on my double CD Dreamer or Believer in 2002.
---
Autoharp Legacy
The autoharp community released a landmark 3-CD collection titled Autoharp Legacy that has tracks by the 48 most important autoharp players in the world, and I am included on it. I did a new solo version of Show Me the Road. If you want to hear all the other autoharp players, you can order one from me
---
GUITAR BOOK MAKING PROGRESS
The TAB book is still not done, but becomes increasingly inevitable. It now contains exact, note-for-note transcriptions of : Suite for the Duchess, Hard Times, Arkansas Traveler, The Highwire Hornpipe, Red in the Sky, Norway Suite: Parts 1 &2, Macallan's Jig, Above the Clouds, Skye Boat Song, The Unknown Soldier, Star Island Jig, Windy Grave, and Canal Street Strut.
---
VIDEO PROJECT LEAPS FORWARD
A TV station in Ohio filmed a concert I did in April , and the film quality and sound quality are so good I am going to release it as a DVD. I liked the way I played at that show, and it will be about 90 mins. of concert footage, and hopefully will not take forever to release.
---
FISH-MEN
I am going to be doing in-store workshops next year for Fishman. I am extremely excited by their new Aura amplification technology, and will be using it starting around Dec 2003. I consider it a real breakthrough.
Here is a pic of me and Larry Fishman jamming with the band at my wedding. He's a good bass player as well as a heckuva solder-head.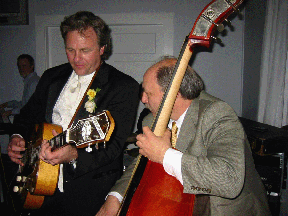 ---
CD sales and concert attendance have been very good for me lately, so if you are wondering generally how we wandering minstrels are doing, in the light of all the press about the decline of the music industry, the answer is I am not feeling it yet. (I'll sell you some cassettes cheap, however...) The possibility exists that people are just sick of mass-marketed crap, and may be buying lots of CD's from local bands and indie artists like me. There is no industry statistic available that measures how we are doing (you'd have to ask us each individually), but there are thousands of us and we sell thousands and sometimes tens of thousands of CD's, so there are millions and possibly tens of millions being distributed "under the radar." h Some of you have seen me in the Herrington Enthusiasts Catalog in Fall 2003, which is mostly gadgets and things for golfers, that gets mailed to millions of homes. Lee Herrington is from NH, a great guy, a guitar player and a music fan. He likes my music and asked to sell 2 of my CD's in the catalog. It's quite an exposure to consumers, and I like his personal style. That's the explanation, in case you were curious why I was in there. h The Joyous Harvest Concert was launched in September, where Joyce & I play a big show close to home. It was a great success, and will be an annual event.

---
Road pics: I did not stay at the Ho-Hum Motel, I am both glad and sorry to report.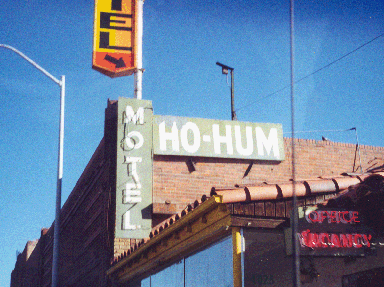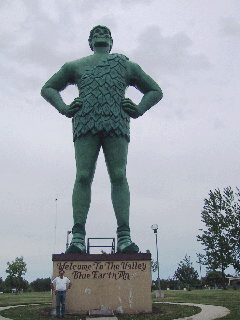 There does not appear to be much to do in Blue Earth MN except stand in front of the huge Jolly Green Giant statue.
---
Billy Connolly
, the wealthy Scottish movie star and comedian, still has not paid me a farthing for using my song in his hit video The Musical Tour of Scotland. Expletive deleted yet again.
---

The new era of information has caused a lot of confusion in my life as a wandering minstrel while also making things easier. It's great to be able to use my cell phone on the road, and to check e-mail and access weather information on the internet. But information has become a surprisingly difficult issue for me. For many years I have mailed out this newsletter every year, and also postcards to the surrounding area when I play a concert somewhere. When the email and the internet came along, it looked like I would be able to phase that out and just send electronic messages, and save the time, paper and expense of mailing things. What this has meant, of course, is that I have had to send both postal and e-mail mailings, since a lot of you still don't have e-mail, and because so many people move either their physical or email addresses. There are about equal numbers of you who change your mailing address and keep the same email, or those who switch email addresses without moving. And then there are a lot of you who have more than one e-mail address, and some of you have so-called "stable" and "reliable" e-mail addresses, so we musicians have to somehow keep track of you, and skip the paper mailings to you. So for 5 years or so I have made both a paper newsletter and a web-version, hoping that some day I could just do it all with e-mail. And then came the spammers. The best way to attract spam is to post an email address on a web site and leave it there for a long time. With "harvesting spider" robots, so many of these evil people got the e-mail addresses that were put up on my web site to let my fans buy tickets to shows, order CD's or ask questions, that I got more spam than you can possibly imagine. (It was over a thousand a day, and when I finally got some anti-spam software, it had reached a megabyte a minute! So believe me I understand when you say you are annoyed with spam. You have never seen as much spam as I got.) In testing spam-blocking software, I had to spend literally hours looking through tens of thousands (yes, tens of thousands) of spam messages, looking for a few things that I might have wanted to get that were caught in the anti-spam nets. I have now given that up, and some of you may have sent me a message I really wanted or offered me a high-paying gig, that is gone forever in the morass of e-sewage. (Like if you offered me a $5000 gig at the Viagra Festival in an e-mail, that message would be squirted out like a watermelon seed without me ever seeing it because of the word Viagra.) Now three more bad things have happened. Spammers (including porn spammers) have stolen my identity, and sent out millions of e-mails that appeared to come from me. This has caused my e-mail address to show up on "known spammer" lists, which is a common way to block spam. There is no way to know how many e-mails I have sent people to invite them to a concert or tell them about my new CD that have been dumped into some electronic trash can somewhere because of this. People have installed filters and service providers have installed anti-spam software, and there is no way I can make my messages to my mailing list look fundamentally different than offers for mortgages and Nigerian money-laundering offers. When I send a notice out to 534 people around Boston to announce a concert there, for example, I have no idea how many of them actually arrive at their destination. In frustration at getting so much spam, a lot of you cancel your accounts, switch names, and then my messages to you bounce, or sit in a barely used inbox somewhere. Mine are not individual messages, and go out as BCC groups. Now the viruses have further corrupted things by attacking people's contact lists, stealing names, and sending viruses and spam. We musicians communicate with a lot of people through our work with bookings, mailing lists and publicity, and my e-mail address is in many people's address books. Which means that a huge number of viruses are being sent out in my name by these viruses. A lot of them get sent to bogus addresses, so I get dozens every day coming in that tell me that an e-mail has bounced, and if I try to be meticulous and keep my list up to date, I waste a lot of time checking addresses and deleting messages that bounced back to me because a spammer used my return address on a virus he sent to thousands of people I never heard of. It's spiraling out of control, and the beautiful e-dream is fast eroding of the people communicating with each other, and of us hard-working folk musicians being able to use the amazing new media of the internet to let our listeners know when we are performing. Do I see an answer in sight? Sadly, the answer is no, and I have now had to give up the plan to eliminate postal mailings, and the cost of stamps, paper and printing just keeps going up. So please understand, let me know when you change e-mail addresses, and be assured that I do not send out porno spam. I'm just a musician trying to earn a living, dog-paddling through this murky sea of information wondering what will come next. I of course would rather send you an e-mail than mail you a postcard, but you people are the ones who keep me alive, and I'll do whatever it takes to keep you posted. Luckily they make stamps I don't have to lick anymore. I've grown to dislike that taste.

After 16 years, the hair is gone. It was still thick and mostly brown, and it was a good time to bow out. It is quite easy to get used to, except when I put a jacket on. Justin Quinn of the Apple Salon in Newburyport, Mass. did the job on a dreary April day. It's been a few months now, it's hard to even remember I ever had it. I saved it for Halloween.

Ready for shearing.

Last chance to chicken out.

Joyce's new wig hat.

The result- Civilized man...
If you don't find what you want, or if you have comments or questions, please email to